A new life for outdoor acrylic fibre wastes
Soft Chemicals is proud to be actively involved, together with other partners,in the European project - REACT: Recycling of Waste Acrylic Textiles.
The aim of the project is the recycling of acrylic fibers from various textile sectors such as outdoor furniture and awnings. REACT is a three-year research and innovation project approved by the European Commission under the Horizon 2020 programme under agreement No. 820869.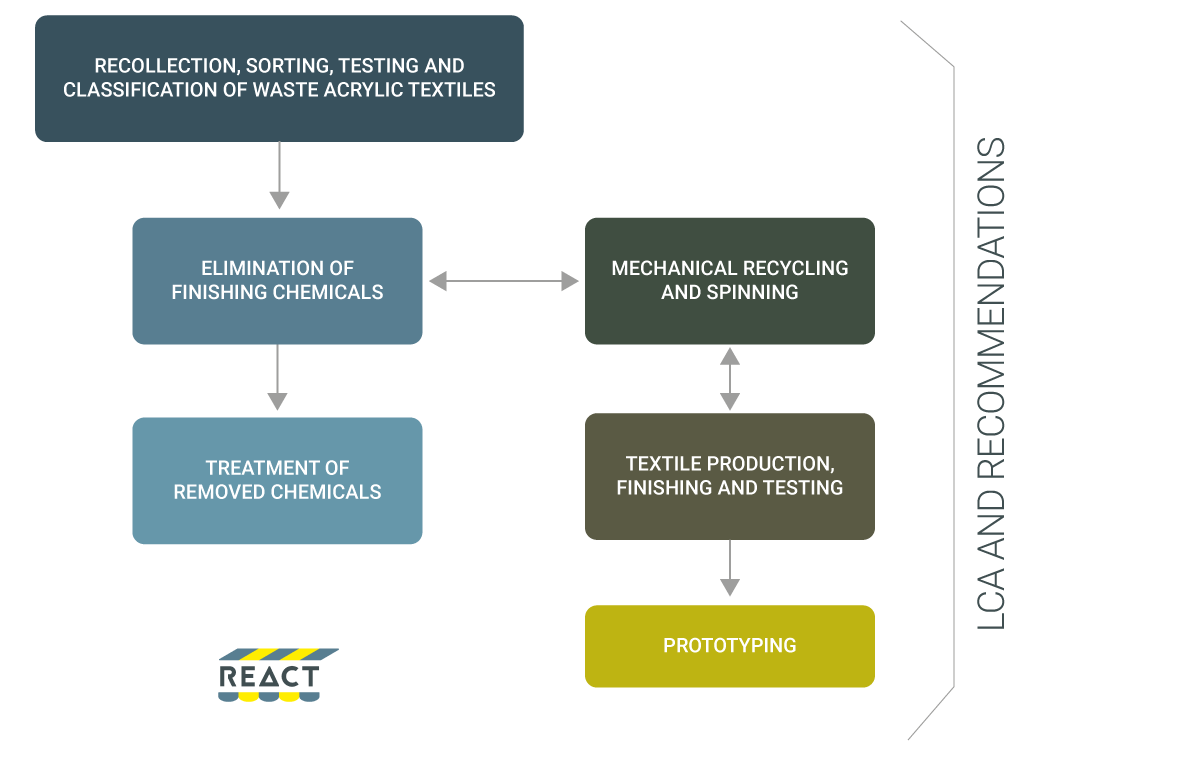 ---
NUMBERS
7'700 Tons of used acrylic fabric which are disposed in landfills or sent to incinerators.
2 million tons of acrylic fibers produced every year. In the manufacture of awnings and outdoor furniture, acrylic is still the most used material thanks to its performances: water repellency, resistance to UV rays and mechanical rubbing;
11,000 tons/year used for outdoor furniture;
2.5 million awnings installed in Europe.
---
PROJECT GOAL
The aim of the project is to identify possible processes to treat and recycle textile waste in an ecological and economic way.
How?
Developing a method to remove unwanted substances (fluorocarbons, melamine and acrylic resins, anti-mold agents) from the waste of acrylic fabrics with an environmentally friendly process in order to improve recycling, improve sustainability and reduce the risk to the environment and for health, as indicated in Regulation (EC) No. 1907/20061.
Removing the dangerous substances whose presence could adversely affect the quality of secondary raw materials and prevent their recycling;
Reaching a removal rate of 90-95% of these substances;
Treating 99% of the impurities present in the waste water;
Reusing acrylic fabrics as raw material for other production cycles, also in combination with virgin fibers;
Recycling 30% of waste from the awning and outdoor furniture sector;
Promote European fabric manufacturers to produce the least amount of waste, recovering hazardous chemicals and using fewer harmful chemicals in order to improve sustainability and reduce environmental and health risks.
---
OUR IMPACT
The REACT project aims to be beneficial and of great impact for the whole environment and, consequently, also to improve the quality of life of all people increase the recycling percentage of the material sent to landfills and incinerators and the purity and quality of the recycled material; and reducing the material sent to landfills and incinerators and the risk of the presence of dangerous substances in recycled materials;
TheREACT project is funded by the European Horizon 2020 Programme under grant agreement N°820869.